VOIP Telephone Systems
of people whose calls aren't answered will not call back
avg. savings on VOIP when compared to the costs of an ISDN line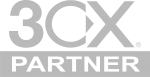 With our VOIP telephone systems you can answer you calls from anywhere
What's the cost of an unanswered phone call to your business? – Our VOIP telephone systems give you full flexibility of where your calls go and where they can be answered.
Do you need a telephone system that gives you more functionality; such as call queuing and auto-attendant? – Our hosted VOIP telephone systems are just what you need, giving you a range of enterprise-like features to ensure that your phones never go unanswered.
Using award-winning PBX software we can offer you full flexibility on where your calls go and where they can be answered, with features such as auto-attendant, call groups, Office 365 integration and the mobile app. Not to mention that you can also add live chat functionality to your company website, which is included and can be fully integrated into your VOIP telephone system.
Our VOIP telephone systems can be fully managed and supported by our technical support team, who are available daily. You can contact them as and when you need assistance via phone, email, or live chat, and a technician will aim to give you a response within one working hour.
Would you like to know more about our VOIP telephone systems? You may have questions in relation to call costs or number porting? – Get in touch today and one of our experienced technicians will be able to advise you based on your individual scenario and requirements.
We have used Techys2u since 2007 and have complete faith in the job they do for us as a company. They are always proactive in recommending new processes for us and the changes that had been made over the previous 3 years made working in this Pandemic a very easy process, from an IT point of view anyway!
Adam Smith
Director – Financial Advice Centre Ltd