With thanks to http://meridian.ws/wordpress/ 
SBS 2011 Exchange Memory Usage Limits with side note for Exchange 2007
Limiting Exchange 2010 Database Cache
http://eightwone.com/2010/03/25/limiting-exchange-2010-database-cache/?like=1&_wpnonce=b4c8db312c
Limiting Exchange 2010 SP1 Database Cache
http://eightwone.com/2011/04/06/limiting-exchange-2010-sp1-database-cache/
To get Exchange 2010 SP1 to honor the configured msExchESEparamCacheSizeMax value, we need to configure msExchESEparamCacheSizeMin as well. The location is identical, so consult the initial post on how to perform this step; where it reads msExchESEparamCacheSizeMax, and use msExchESEparamCacheSizeMin as well.
To ensure the ESE database has sufficient memory to work effectively, there is a required minimum amount of physical memory per server based on database count. These requirements apply to both active and passive database copies. See the following table for the requirements.
Required minimum memory per mailbox server
Database count        Exchange 2010 minimum required physical memory
1-10               2 GB
11-20             4 GB
21-30             6 GB
31-40             8 GB
41-50             10 GB
51-60             12 GB
61-70             14 GB
71-80             16 GB
81-90             18 GB
91-100           20 GB
1. Start ADSIEDIT.msc
1.5 Right-click ADSI Edit at top of left side menu, select Connect to…, choose Connection Point, Select a well known Naming contest: drop-down, Configuration, OK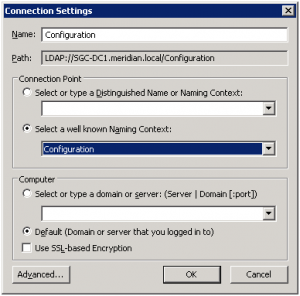 ADSIEdit Connection Settings Dialog Box
2. Navigate to Configuration > Services > Microsoft Exchange > <Organization Name> > Administrative Groups > <Administrative Group> > Servers > <Server Name> > InformationStore
3. Right-click InformationStore, and edit msExchESEParamCacheSizeMax. Set it to the number of pages to maximize the Database Cache to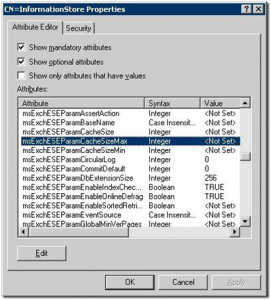 4. Restart the Microsoft Exchange Information Store service for the change to become effective.
So, for instance, if you want to limit the Database Cache to 4 GB of an Exchange 2010 server, set msExchESEparamCacheSizeMax to 131072 (4 GB = 4.194.304 KB / 32 KB). If you want to limit the Database Cache to 2 GB of an Exchange 2007 server, set msExchESEparamCacheSizeMax to 262144 (2 GB = 2.097.152 KB / 8 KB).
Math   ==>   Target Cache Size in GB = (# * 1024 * 1024) / 32
Target Cache Size in GB
msExchESEParamCacheSize for 2011
(32KB pages)
msExchESEParamCacheSize for 2007
(8KB pages)
1
32768
131072
2
65536
262144
3
98304
393216
4
131072
524288
6
196608
786432
8
262144
1048576
10
327680
1310720
12
393216
1572864
14
458752
1835008
16
524288
2097152
18
589824
2359296
20
655360
2621440